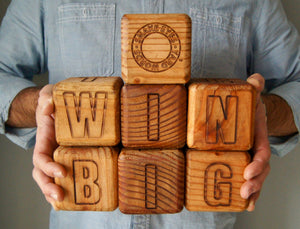 Snake Eyes Yard Words is an all-new dice game with letter on the dice instead of pips. 7 dice with a variety of letters on them including the wild cards (The Snake Eyes Yard Words logo) creates 280,000 possible letter combinations!
Snake Eyes Yard Words is a combination of Scrabble, Boggle and Bananagrams. The set includes 7 different dice with 6 different letters engraved on each of them. The dice are 3.5 by 3.5 by 3.5 inches with rounded edges and corners. Roll all 7 dice and try to build the longest word with your letters. Each set contains 3 wild cards which can be any letter you want. Each player gets one turn per round and the player with the longest word of the round gets a point.
A Set Includes:
• Six (7) solid wood dice (3.5 by 3.5 by 3.5 inches)
• A drawstring jute bag for easy transportation
• Rules and a scoresheet to get you rolling right away
Snake Eyes Yard Words and packaging are all-natural and weigh 5.5 pounds.
The dice are hand made in Minneapolis, MN
Each piece is unique and will vary.
Wipe clean and dry, store indoors.