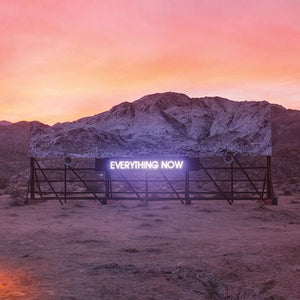 Canadian indie rockers Arcade Fire released the title track from their fifth album on vinyl in Spain at Primavera Festival in unique fashion: fans circulated a YouTube video filmed on an iPhone of the 12" spinning in a record store, drowned out by people talking over it. Every aspect of the song felt cryptic and mysterious.
Now the track is out and it's another grand, sweeping statement from a band who doesn't know how to communicate any other way. But maybe the most gratifying thing about "Everything Now" is that-after the heady, complex dance music on Reflektor — the band's just sailing here, writes Pitchfork.  The disco beat and ABBA strings certainly help, but, for a song that confronts our need to obtain everything immediately, "Everything Now" succeeds by virtue of patience, replacing the peaks and crescendos of previous Arcade Fire anthems with one momentous rush.
"Everything Now" is the most free-flowing most free-flowing and simple Arcade Fire have maybe ever sounded musically — it's genuinely hard to connect the single to the tight, intense, grief-driven force that wrote "Funeral" over a decade ago — it's a track that's lyrically complicated and, at times, a little messy.
"Everything Now" is assisted by new album co-producers Thomas Bangalter, of iconic French clubland duo Daft Punk; and Steve Mackey, of 90s Brit-pop act Pulp; who bring the freshness alongside Arcade Fire and longtime collaborator Markus Dravs.
The band flirted with electronics on Reflektor, getting help from New York hipster emeritus James Murphy, of LCD Soundsystem. But this feels different, more free and fearlessly groovy, writes the Montreal Gazette. Comparisons to Abba are not off the mark, while the song has reassuring hints of Arcade Fire's trademark alienation and ennui.
| | |
| --- | --- |
| | Side 1 |
| | 1. Everything_Now (continued) |
| | 2. Everything Now |
| | 3. Signs of Life |
| | 4. Creature Comfort |
| | 5. Peter Pan |
| | 6. Chemistry |
| | 7. Infinite Content |
| | 8. Infinite_Content |
| | Side 2 |
| | 1. Electric Blue |
| | 2. Good God Damn |
| | 3. Put Your Money on Me |
| | 4. We Don't Deserve Love |
| | 5. Everything Now (continued) |